Professional applicators
You can be assured a quality application and professional approach when you have your EnduroShield applied by an EnduroShield Professional Applicator. EnduroShield Professional Applicators are fully trained in the complete product range and are able to clean, and protect your surfaces, making them easy to clean and maintain for years to come.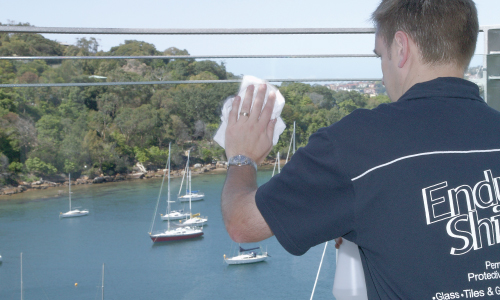 Professional service
◊ Free quotes
◊ Professional surface cleaning and preparation
◊ Professional product application
◊ Can be applied to new or existing glass, tile, grout, stainless steel, and chrome Surfaces
EnduroShield professional application example
AUSTRALIA's BEST HOUSES featured EnduroShield in one of Australia's most innovative houses – the Forest Lodge Eco House, winner of the 2014 HIA Green Smart Australian Home of the Year award, and 13 other national and international design and construction awards. We were given the opportunity to appear in the program to describe the benefits of EnduroShield and why it was applied to the surfaces of this highly innovative sustainable home.
Warranty
Extensive  testing  shows EnduroShield to last beyond 10 years, enabling a genuine 10-year limited warranty on all new glass surfaces. A 5-year limited warranty is provided for application to existing glass surfaces, and a up to a 3-year warranty for tile, grout and stainless steel surfaces however this does not mean the coating will stop working after this period.
CONTACT US
Our team are here to help. Contact us today.