Partner and innovate with EnduroShield
Glass fabricators and processors globally are offering EnduroShield easy clean glass to their customers.
"We have used a number of different options over the years with limited success, however when we saw the superior product and support that comes from being an EnduroShield partner we were quick to make the move. EnduroShield and our partnership has proven its worth over the past 8 years." – Bobby Landeros – PRL Glass Systems
Glass fabricators choose EnduroShield professional glass treatment
Utilizing nanotechnology to achieve an exceptionally durable protective coating, EnduroShield is a clear liquid that is sprayed onto the glass to reduce cleaning time and maintenance. Enduroshield is a simple two step process (which includes pre-cleaning), that reduces application time, labour costs and maintenance: EnduroShield can be applied by glass fabricators and processors in 3 simple ways:
Manual: Using trigger spray method and wiping into the surface
Semi-automated: Using an EnduroShield low volume, low pressure spray gun
Fully automated: EnduroShield X-Line High Speed in-line coating solution. This machine can be stand alone or integrated into existing manufacturing lines and is available in three different sized configurations depending on your requirements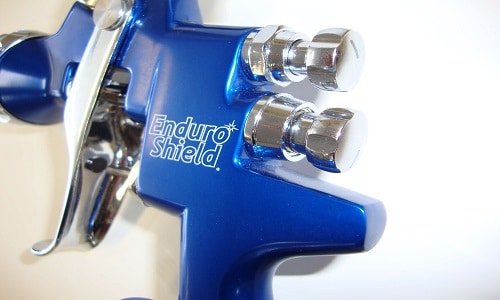 Manual spray gun application
EnduroShield's professional glass treatment is becoming the product of choice for applying to shower doors, insulated glass units, curtain walls and automotive glass. Large glass fabricators and processors are choosing to partner with EnduroShield due to a number of key factors which distinguish the brand including durability, simplicity and quality. EnduroShield is focused on market-leading performance. With 10, 5 and 1 year coating options, EnduroShield can tailor a solution that is specific to each customer.
By providing a unique value-add solution, EnduroShield enables fabricators and processors to differentiate themselves from the competition and produce products that provide great value to their customers. We have also engineered systems for application to streamline the use of EnduroShield products with ease, allowing vast scalability so any size of operation can benefit from EnduroShield.
Applied by glass fabricators and processors
Single application permanently* bonds to the glass. Revitalizer products are not required to maintain performance
10 year limited warranty
One coating application (Does not require two-part treatment, reducing time & labor costs)
Glass is easy to handle after application (Glass is not slippery)
UV Stable
Silicone seal will bond to treated glass
Suitable for all types of glass surfaces
* Based on 10 years of simulated normal use and certified by TÜV Rheinland, Germany.
See the difference
See EnduroShield in action; applied in factory by some of the world's largest glass processors and in-situ to prominent landmark buildings across the globe. A truely revolutionary coating, EnduroShield features on significant global projects such as the One World Trade Center in New York USA, the Infinity Tower in Brisbane AU, and the Bombay Saphire Distillery in Hampshire UK. Contact us for more information on the key application benefits on all of our projects.
Green & LEED projects
EnduroShield has been specified on a number of green projects. The Leadership in Energy and Environmental Design (LEED) Green Building Rating System is a third-party certification program which does not rate products, rather is used to rate green building projects. As part of our commitment to green projects, EnduroShield is a proud member of the US Green Building Council, the developer of the ratings systems, reinforcing the environmental benefits that a project can attain when EnduroShield is specified.
Warranty
The EnduroShield Project Warranty system installs confidence for glass providers, contractors, and end customers. The online system enables a unique code to be entered providing a simple and transparent approach to registering the EnduroShield 10 year warranty. Registration allows for quick and accurate access to all necessary information in the event of a customer call and is serviced directly by EnduroShield global offices.
WORK WITH US
Want to collaborate with EnduroShield? For more information, reach out to our team.