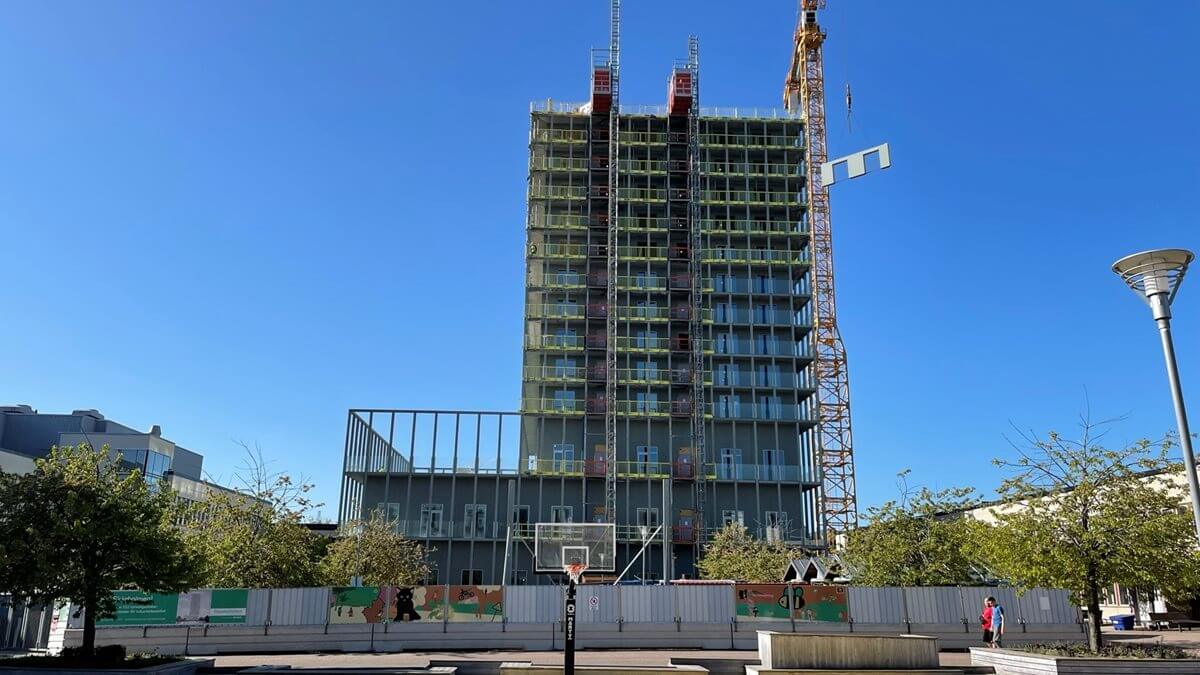 Kv Måsholmen – Leading Innovation and Sustainability in Stockholm
Welcome to Kv Måsholmen, a remarkable place in Skärholmen, Stockholm. This unique building will change city life for the better, offering new ways to live and work. Proudly, it will stand as a symbol of Stockholm's commitment to innovation, green living, and community support. In this article, we are excited to share the special features of Kv Måsholmen and shine a light on the important role of EnduroShield in this project.
Stockholm is transforming, creating more space for businesses and people outside the crowded city center. Söderberg Söderberg, a top architectural firm, accepted the challenge and created Kv Måsholmen. This mixed-use building is becoming a symbol of growth and new beginnings in Skärholmen.
Per Söderberg, the lead architect, designed the new AB Stockholmshem office to blend in and stand out at the same time. With its 23 floors, it is a landmark visible from the European Route E4, warmly welcoming everyone to Stockholm.
Kv Måsholmen is more than a building. It is a symbol of the 'new' Skärholmen, guiding and inspiring people. Besides, it adds 102 homes to a lively area full of shops, services, and a big shopping mall. The location is great for getting around, with a subway station, many bus routes, and lots of bike paths.
The apartments are full of light, with balconies and big windows in every home. The building's smart design means there is no 'back' to the building, giving everyone great views from large balconies.
"EnduroShield is proud to contribute to the sustainable beauty of Kv Måsholmen, setting a new standard for eco-friendly urban living in Stockholm."
Adrian Ray, Global Sales & Marketing Director, EnduroShield
EnduroShield: A Shield of Excellence
EnduroShield has been carefully chosen to protect all the glass surfaces of Kv Måsholmen, ensuring the longevity of its stunning views. Tumba Glass has treated over 50,000 sq ft (4,650 sqm) of exterior glass and railings with EnduroShield's advanced protection. This results in less need for cleaning and lower maintenance costs. This eco-friendly choice also means less water use and reduced chemical runoff.
For lasting cleanliness and beauty, we recommend applying EnduroShield to both sides of exterior monolithic or laminated glass. This not only enhances the building's look but also ensures it stays in pristine condition for longer.
Kv Måsholmen stands as a modern icon in Stockholm, representing growth, sustainability, and innovation. With EnduroShield's protective solutions, this landmark will continue to shine as a beacon of beauty and efficiency for many years to come. If you're interested in EnduroShield's architectural solutions, please reach out to our team. Choose EnduroShield for the future of building protection and aesthetics, just as Söderberg Söderberg has done with this unparalleled project.
Project Details
Name: Kv Måsholmen
Location: Bredholmstorget 18, Skärholmen, Stockholm, Sweden
Glass Fabricator: Tumba Glass
Total Units: 102 Residential Units
Owner: AB Stockholmshem
Consultant: Söderberg Söderberg
Estimated Occupancy: 2024
WORK WITH US
Want to collaborate with EnduroShield? For more information, reach out to our team.